MLK50 Panel: Where Do We Go From Here?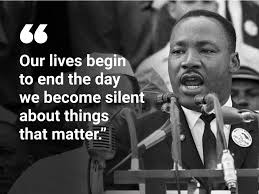 Wednesday, April 4, 2018
11:00 a.m. - 1:00 p.m.
Room 315
Hood Theological Seminary presents a very special event to mark the 50th anniversary of the death of Dr. Martin Luther King, Jr. The theme for the MLK50 Panel is based on Dr. King's final book, Where Do We Go From Here: Chaos or Community?The two-hour MLK50 panel will convene scholars, historians, activists and thought leaders from across the state to discuss the state of civil and human rights issues and racial and economic equity in our world today - 50 years after Dr. King's death. Check back for more details! This is a free event and all are welcome.
There will be an associated Film Event: Chairman Jones, that evening at 7:00 pm with facilitated discussion following. This seminary event is co-sponsored with the City of Salisbury Covenant Community Connection and the Center for Faith and Arts ( CFA).
« Back to News