THE BISHOP ALFRED E. AND MRS. MAMIE WHITE ENDOWED HERITAGE LECTURES

Friday, February 8, 2019 at 7:00 pm
Saturday, February 9, 2019 at 10:10 am
The Aymer Center
"Blessed Interdependence: Reimagining Identity, Community, and Solidarity"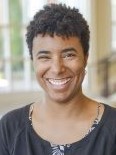 Presented by Amanda Mbuvi, Ph.D., Assistant Professor of Religion, High Point University

Lecture I (Feb. 8): The social ladder and the family tree
Lecture II (Feb. 9): We the People (You Must Go)
Dr. Mbuvi is Assistant Professor of Religion at High Point University. She received a Ph.D. in Religion (with minors in Literature, Judaic Studies) from Duke University, and a M.T.S. in Biblical Studies from Palmer Theological Seminary, St. David's, PA. Dr. Mbuvi received a B.A, in Philosophy and Literary Theory from Bryn Mawr College, Bryn Mawr, PA. She also earned a Certificate in Nonprofit Management from Duke University

Dr. Mbuvi's areas of Specialization include Hebrew Bible, literary and theological approaches to biblical interpretation, concepts of identity and community, religion and literature and Jewish studies. She has taught courses in Old Testament Studies, Hebrew Prophets, Pentateuch, Introduction to Judaism, Biblical Hebrew for Reading, Biblical Interpretation, Psalms and Wisdom Literature, and Women in the Bible.
Dr. Mbuvi says she was drawn to the Hebrew Bible because of its vivid stories and rich language, and because of the way it connects the various streams of her identity. Born into an interracial family, she grew up Jewish in the black church. In the classroom, she draws on that experience to help students encounter voices from a wide variety of perspectives, expanding their horizons while also developing their own point of view.
Her research also brings together multiple streams. She approaches biblical studies from an interdisciplinary perspective, engaging questions of identity and community that are prominent in both the biblical texts and contemporary conversations about how we live with those texts and with each other. Her first book, Belonging in Genesis: Biblical Israel and the Politics of Identity Formation, was recently published by Baylor University Press.

The lectures are free and all are welcome.

« Back to News